A Top Pool Deck Surfacing Company in Greensboro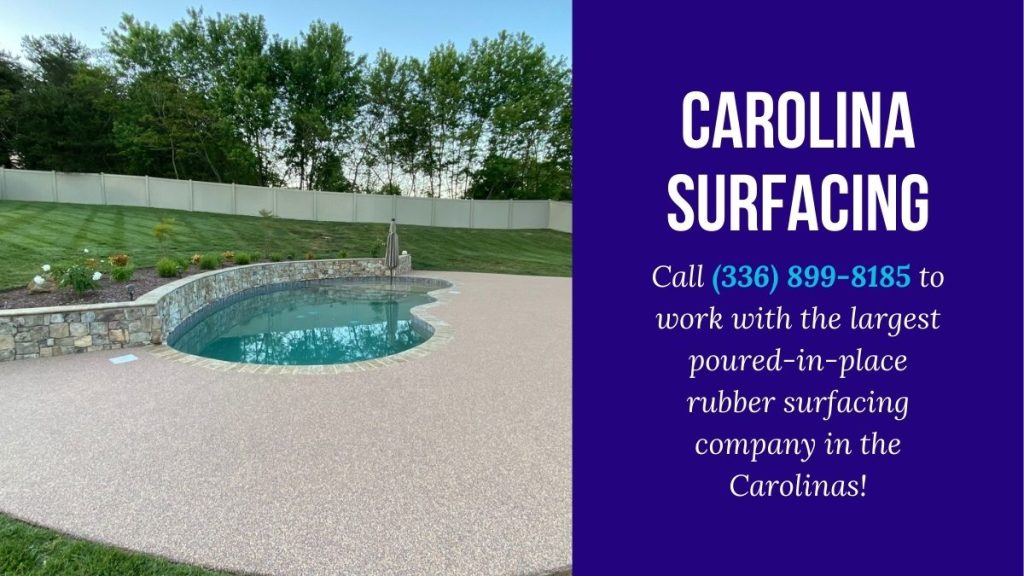 Rubber Surfacing
Clients looking for pool deck surfacing in Greensboro need not worry anymore as Carolina Surfacing offers expert solutions to residents' pool deck surfacing needs. This popular company has many years of experience in rubber resurfacing and they take pride in providing high quality rubber surfacing for pools and splash pads in North Carolina. Additionally, Carolina Surfacing provides reliable resurfacing services to residential and commercial properties such as gyms, basements, patios & decks, porches, and animal facilities.
Experienced Team
Carolina Surfacing has all of the top resources to provide pool deck surfacing in Greensboro and surrounding areas. This Greensboro NC rubber surfacing company employs a team of certified experts and this professional team understands that pool deck isn't all about rejuvenating cracked concretes. Rather, it is about inspecting pool decks to assess the possible hazards before determining the best solution. Hence, safety is the company's number one priority when offering Greensboro NC rubber surfacing services, making its works of art second to none.
Many Benefits
The experts at Carolina Surfacing understand that pool deck surfacing continues to evolve. So, they have incorporated modern surfacing technology that combines premium rubber granules and binders to ensure high quality and durable poured-in-place rubber surfaces. Pool deck surfacing specialists consider this technique to be the safest for pool and splash pads. Besides, these rubber surfaces don't get scorching hot, their durability is unmatched, and they are effective for indoor and outdoor pools. What's more, the rubber surfaces are easy to clean, repair, and maintain, cover unsightly or cracked concretes, are impact resistant, non-slip, and long-lasting.
Contact Carolina Surfacing
Clients who need a pool deck surface flexible for all environments should look no further than Carolina Surfacing. In addition to environmental flexibility, the company's professional team can add various designs and logos, giving clients' pool decks a seamless appearance they have always desired. Carolina Surfacing isn't in business to primarily earn profit – their primary goal is to ensure everyone's surfacing dreams come true. Their dedicated professional team provides the best pool deck surfacing services in the region, so give them a call today. For more information about pool deck surfacing in Greensboro and surrounding areas, visit www.heyitsrubber.com.