In order to create a strong, secure, non-slip surface that is incredibly durable, Waterford Coatings installs a special rubber surface that mixes high-tech polymer resins with rubber granules. We welcome you to call us so we can discuss our many applications and alternatives with you and see what we can do to help! Call us to learn more about our numerous color and pattern options or to receive a free quote for resurfacing your rubber pool deck. Our team is happy to help clients throughout New York.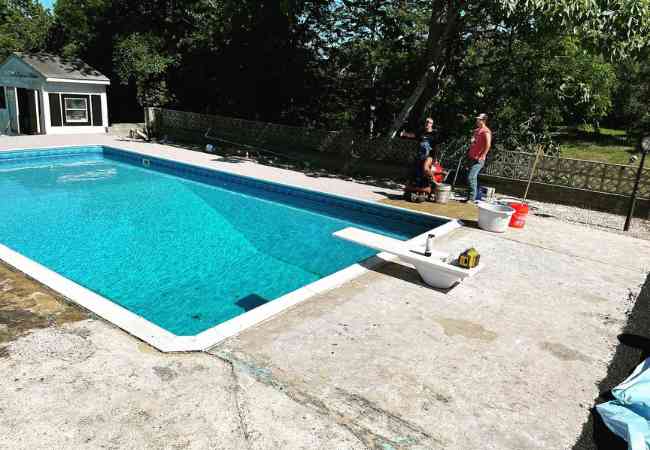 The best poured-in-place rubber surface is expertly installed over your new or existing surface by the team at Waterford Coatings. There are many different colors available. It is quicker and more practical to use our pool deck safety surfacing than to tear away an old, damaged concrete pool deck. Fences don't need to be taken down, we don't need to bring in big machinery, and your lawn won't be destroyed.
Our rubber decking for swimming pools has grown in popularity. We offer a superior substitute safety surface for water parks and swimming pool decks in homes and businesses. Numerous design options are available due to the many hues and contemporary styles. We are able to resurface existing pool decks as well as install our rubber surface on indoor and outdoor pool decks.
For a luxury, polished pool deck, Waterford Coatings' poured-in-place rubber surface effectively fills in uneven, chipped, and cracked concrete surfaces. Safety around the pool is essential! Even when wet, our rubber surface maintains its slip resistance, assisting in preventing potentially harmful slip-and-fall mishaps. The impact-absorbing capabilities of our rubber surface are a significant advantage for both commercial and residential pool decks. On our surface, a glass bottle can be dropped without breaking. Glass shattering around swimming pools is hazardous and necessitates closing, draining, cleaning, and then filling the pool with water. Please give us a call if you would like more details about our rubber pool deck surfacing. Visit our gallery for more inspiration as well!